Customers First?

21st of February 2018


The claims of companies that they are customer driven, customer centric or some other combination with the word "customer" is no longer a fringe occurrence in the world of marketing. Gartner even has a nice infographic about their habits. And although from personal experience, I would attest that most companies would project this strategy to the outside world, most of them are still geared for operational excellence above other concerns, the intention at least seems there to invest in a better customer experience in order to reap the benefits associated with such an approach. But how do you go about this as a company If indeed you would place the customer above all else? Going on its popularity (perceived or actual), one could say it have become the default strategic choice, with all others trailing behind. . If we take the 1993 article of Michael Treacy and Fred Wiersema in the Harvard Business Review, this strategy would lean the closest to what they called Customer Intimacy (although a case could be made for Product Leadership as well).
A quick recap of what they considered to be the three value propositions for business strategy:
Product Leadership: These companies focus on innovation and performance leadership. They strive to turn new technologies into breakthrough products and focus on product lifecycle management. This means integrating a flexible production process with a dominant R&D department.
Customer Intimacy: These companies focus on specialized, personal service. They strive to become partners with their customers. They focus on customer relationship management. A loyal customer base is attained by seeking the best customer solutions and innovation mostly takes place in the support of these customers, with the CRM department taking the lead in strategy.
Operational Excellence: These companies focus on having efficient operations in order to deliver the lowest-priced product or service, that is reliable, to their customers. They focus on their supply chain and distribution systems departments in order to reduce the costs of their products or services.
Focusing on Customer Intimacy for this article, we do need to think about how a company has to go about this. Remembering my review of the Balanced Score Card, we need to have strategic goals that can be translated into clear measurable objectives, which in turn become initiatives that can be carried out by all employees of the company in a cause-and-effect cohesiveness with those objectives as their focal point. Mike Rowland of West Monroe Partners calls this the North Star of the customer promise in a recent webinar at BrightTalk. Instead of trying to fix individual customers grievances or irks, he proposes to have this customer promise become the foundation for value acceleration, to be worked towards by the entire organization. I did smile a bit when he identifies the North as both a foundation and a goal to work towards. If you aim for your foundation, you will effectively run yourself into the ground? Luckily, this is not what he means.
All kidding aside, he does bring an important message in this webinar, stating that your customer experience is only valuable if it can be translated into concrete economic value for your company. The benefits for your customers should be in balance with the benefits for your company. This translation of metrics can be seen in the screen shot below, where these metrics are linked to each other, much like the perspectives of the Balanced Score Cards are ultimately still linked to the financial perspective. He also stresses not to treat your customer base at homogenous in this approach. It could be beneficial to give a preference to some types of customers over others (for example through a fidelity program), depending on what your aim is concerning your market share.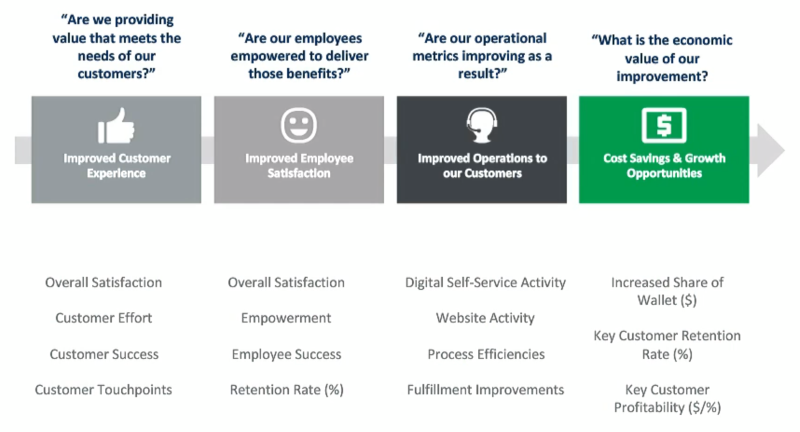 Linked Metrics for Customer Intimacy Strategy
In order to start with the customer promise and derive proper initiatives for an orchestrated/coordinated approach throughout the company, he proposes Design Thinking, a methodology for innovation thinking and designed in a non-technical context (for example a social or business context). Mike Rowland defines it as a well-defined process for driving creativity and innovative solutions for both customers and employees. While there are several techniques associated with Design Thinking, such as interviewing, creating user profiles, looking at other existing solutions, creating prototypes, mind mapping, asking questions like the five whys, drawing issue trees, situational analysis…, no clearly defined steps are put forward as a standard. For this reason, West Monroe Partners have developed the DEEPEN methodology to insert a bit more structure into this process.


DEEPEN Methodology
By no means is this the only identification of steps in the Design Thinking Process. For example, Stanford University's efforts of mapping design thinking onto the educational system have given us an alternative to the DEEPEN methodology that can be considered equally relevant, as shown by the steps listed here:
Understand: students explore the topic through research and develop familiarity with the subject matter.
Observe: this phase consists of students taking note of their environment, which includes physical surroundings and human interactions; students gather more information about peoples' actions and possible motivation through discussion.
Point of view: students consider alternate points of views to better understand the problem and to inform their ideas in the next phase.
Ideate: this phase consists of students brainstorming ideas without criticism or inhibition. In this phase, the focus is on generating lots of ideas with an emphasis on creativity and enjoying the process.
Prototype: in this phase students create quick prototypes to investigate ideas generated during the ideation phase.
Test: students test their ideas in a repetitive fashion and determine which aspects of the design are effective and which could be improved.
As one can derive from the Enact step of the DEEPEN methodology, data input plays an important role in how successful and accurate you can create an approach for reaching the desired customer experience goals. With the age of data analytics firmly entrenched around 2018, it can be a daunting task to filter the relevant data from the totality of data available to companies. The key principle here is to try and match your data sets to correspond to the objectives you have set for yourself when fleshing out your strategy. An example of this can be seen in the illustration below.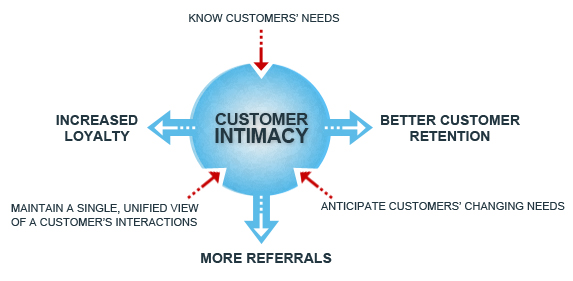 A final thought before calling it quits for this article: When should companies prefer customer intimacy over the other strategic value propositions? This is a multi-layered question that cannot be easily answered, but there are some principles that can be applied in any type of company. The following considerations should be made:
Company Culture: Although conceivably one could alter company culture top down, the change management involved could prove a taxing endeavor. So the first consideration is whether your company culture can actually be matched to the needed initiatives for a customer intimacy strategy.
Value Stream Lifecycle: When we assess the value stream we want to govern with a customer intimacy strategy, where in the lifecycle is it positioned? Typically, the Growth phase is where we initially want to increase market segment, and is thus the likely candidate for this type of strategy.
Overarching Strategy: You might need to align with a business strategy set out on a higher level than the value stream you wish to apply it to. This could form a constraint or a larger taxation on shared resources than is beneficial.
Customer Revenue Balance: The main thought behind customer intimacy is that the value for the company from an individual transaction with a customer versus its associated cost is outweighed by the value of the lifetime of a customer within our market segment versus the cost associated with this. This is a statement that needs to be verified to be true no matter which company strategy segment (be it value stream, business unit or overall company) it is applied to.